High-Impact IRO and CCO Recruiting Services
The financial markets knowledge and strategic brand stewardship provided by high-performing Investor Relations Officers and Chief Communications Officers, respectively, almost invariably results in game-changing success for our clients. This is why we focus exclusively on recruiting candidates and advising clients regarding these specific roles. It's our laser sharp focus in this niche that has allowed us to be market makers for both our clients and the candidates with whom we work.
Valuation & brand distinction starts with innovative thinking and savvy talent…recruiting exceptional talent is our firm's mantra.
Our strategic partnership with clients is to focus on the additive value of recruiting the RIGHT talent into two of the most critical and influential roles that are an integral part of today's corporate leadership team and Board of Directors' thinking – the Investor Relations Officer and Chief Communications Officer positions. At the intersection of all strategic business decisions and risk assessment, these two executives are the stewards of:
Serving as internal business partners across the leadership team and with the Board of Directors to ensure consistency of strategic messaging across all platforms with all audiences
Conducting themselves as a visionary and transformative leader who is viewed as a credible partner to management as it relates to the investment community and myriad other constituencies
Partnering with management to assess external threats and determining the communications around those issues that will allow the company to stay focused on its core business
Framing and advancing the directional aspects of a company's brand such that all constituencies understand the compelling nature of the business and management team decisions
Serving as stewards of transparency on myriad subjects germane to a company's viability and credibility
Focused. Specialized.
 On-Target.
Smooch is the only executive search consultant in the world who exclusively solves investment community challenges through IRO talent placement and addresses corporate brand dilemmas through Chief Communications Officer talent advisement and placement. Her specialization in this field results in a competitive advantage for clients and candidates that cannot be found elsewhere… it's an intentional commitment she made at the onset of her search consulting career.
At a glance
The Industries Traversed During the Past 10 years…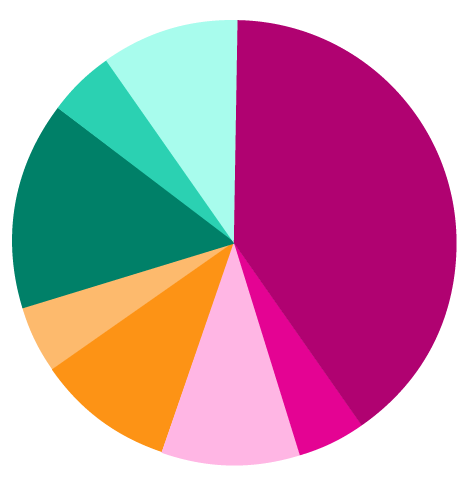 Healthcare Services & Solutions 10%
Investor Relations Officer (IRO):
Increased Client corporations' equity valuation more than $750B through strategic IRO recruitment.
Chief Communications Officer (CCO):
Enhanced corporate brands significantly and advanced different business successes through placement of CCO thought leaders and business partners.
Executive Search Consulting
Smooch thinks differently about human capital strategies and the inherent value of placing the right talent with the right organizations. She is exclusively focused on introducing clients to candidates who will serve a critical role in these organizations' future success.
As such, she is always dedicated to solving problems associated with investment community challenges facing a company or corporate branding and communications issues by placing the appropriate candidates in the IRO and CCO chairs.
IRO and CCO function evaluations
20 years ago, Smooch controversially claimed that Investor Relations Officers stood at the intersection of everything important about a company. As the profession has evolved along with the financial markets, the direction of the IR profession has broadened to include the numerous responsibilities involved in fostering an engaged shareholder community and ultimately dictating the success of a company.
The role of the Chief Communications Officer has undergone a similar evolution. Rather than engaging in superficial publicity campaigns or events, the CCO needs to become a thought leadership partner with the CEO and management team to validate an organization's direction and achieve its goals through strategy and programs.
Having played a key role in this evolution, Smooch is preeminently qualified to provide insights and advice regarding your current or prospective IRO and CCO functions.
Talent Mapping
After decades of executive search experience, Smooch has an intuition for the intangible qualities of each candidate and how they will align with the culture, management teams' mindsets and the structure of certain organizations. With this cultural fit as a foundation, Smooch engages in Talent Mapping by individually charting the skills and abilities of candidates—and their progression over time—and reaching out when the time is right to make an organizational adjustment.